Spray On Chrome Kits
---
Whether you are an artist, sculptor, auto-body shop owner or a hobbyist, adding chrome to your projects or parts can bring excitement and beauty to any medium.
Some people shy away from chrome because of the expense and slow turnaround times. Others have large parts that cannot be chromed because of their size. A spray on chrome kit from PChrome eliminates those concerns, and a spray chrome system has many benefits over traditional chrome plating.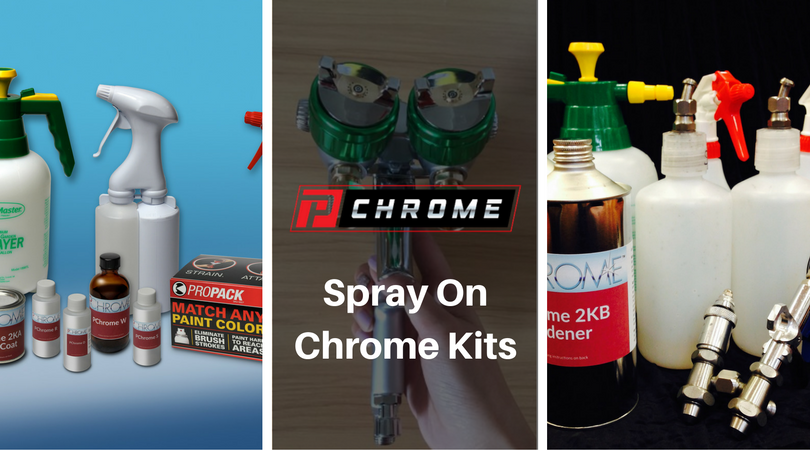 With a chrome spray kit, you are able to apply your chrome on-site, eliminating the need to send your part off to a traditional chrome plating company. A spray chrome system is also substantially cheaper than traditional chrome plating, but it still gives the same shine and surface that you are wanting. You are also not limited by the size of the piece you want to chrome. Because a PChrome chrome spray kit does not require the use of hazardous acid baths like traditional chrome-plating does, you can also feel good about having a smaller footprint on the environment. We offer two kits so that you can choose the one that is right for you.
Save Up To 25% On All Spray Chrome Kits With Our Programs
---
PChrome Artist Starter Spray Chrome Kit
Our smaller kit, the PChrome Artist Starter kit is perfect for people who have smaller projects or who want to try out our spray on chrome kit before purchasing our larger system. The kit comes in two sizes with one providing 25 square feet of coverage and the other providing 50 square feet of coverage. This kit is an excellent choice for artists, hobbyists, sculptors and designers. It comes with all of the following:
Double-bottle handheld sprayer for the simultaneous application of the PChrome R and S solutions
Three single-bottle handheld sprayers for the PChrome D, W and deionized water applications
Pipettes and measuring cups for your chemicals
A powered spraying kit to apply your basecoat and topcoat
S, R, D and W solutions
Permalac 2KA, Permalac 2KB, black basecoat reducer and pre-tinted topcoat reducer
Your chosen kit will have enough of the solutions and chemicals to cover either 25 or 50 square feet, according to your chosen selection.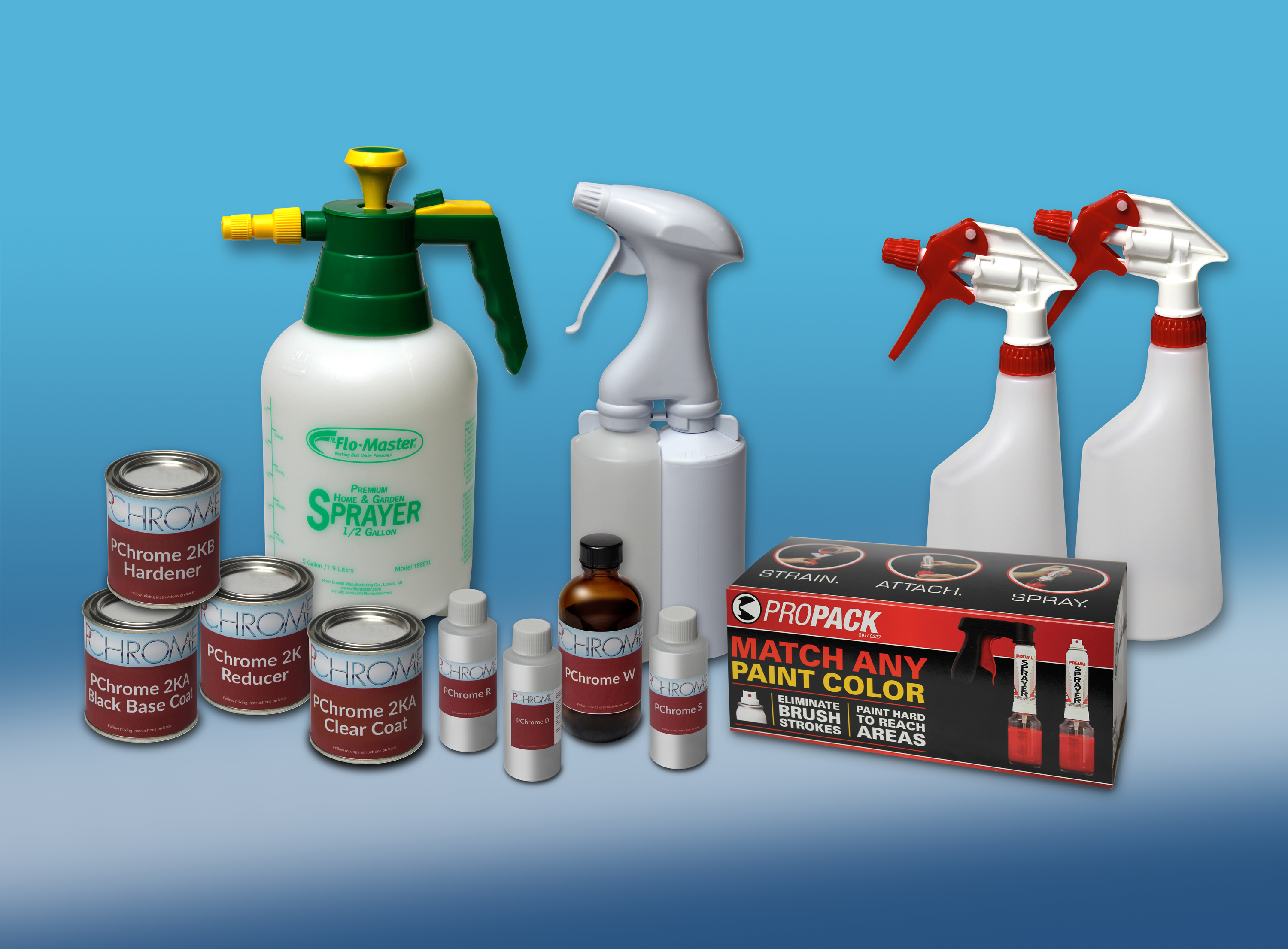 PChrome Professional Starter Spray Chrome Kit
Our professional spray chrome system is perfect for people who own their own auto-body shops, motorcycle shops or who plan to complete a number of chrome projects. It comes in three coverage levels, including 125 square feet, 250 square feet or 400 square feet. This system comes with all of the following:
Spray On Chrome Kit Solutions
2K reducer
PChrome black additive
Spray On Chrome Hardware
Our specialized dual-nozzled silvering gun for the application of your S and R solutions
A single-nozzled spray gun for the application of your D solution
Siphon bottles
Two pairs of rubber gloves
Two pairs of safety glasses
Two clear vinyl aprons
Cartridge-style respirator
Order Your Kit Today!
You can get started on your project no matter its size when you order your own PChrome chrome spray kit. Call us today to place your order or simply order your kit today on our website.
Shop Now!