You are likely aware of how desirable chrome is to most people. Consumers love the mirrored finish of chrome as it brings luster and beauty to whatever it is applied to. PChrome offers the top spray on chrome system that is available. With it, customers can achieve the same look and feel that they can get from traditional chrome plating but at a substantially lower cost. By becoming a spray chrome distributor, you can tap into the market and enjoy profits as you build your spray on chrome system business.
Sell The Preferred Spray Chrome System To Your Customers OR Use it Yourself!
By becoming a distributor, you can enjoy numerous benefits. You'll want to make certain that the spray on chrome system that you offer is of the highest quality. PChrome has been making its product line since 1932 and offers chrome spray systems of unparalleled quality. This can help you to quickly build your customer base so that you can reap profits. On the other hand, if you choose not to re-sell the product to your clients, you can choose to use our high quality solutions for your shop, garage, or business. Both ways, you win!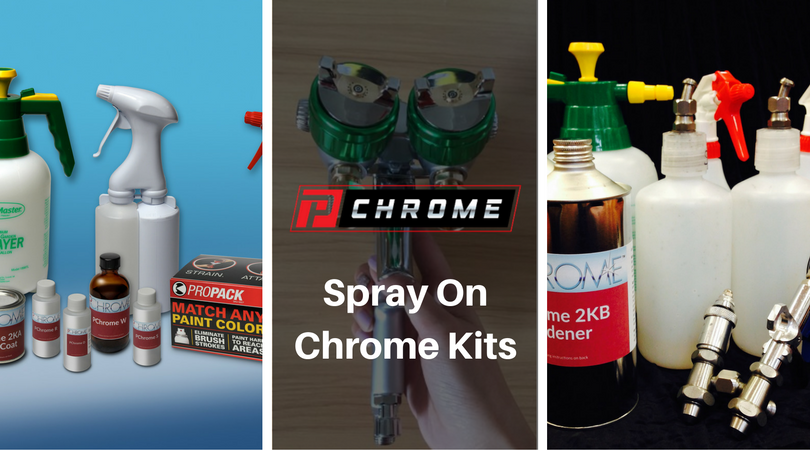 Benefits Of Becoming A PChrome Distributor
By becoming a PChrome distributor, you'll be able to sell our product to your business customers with little hassle. Since a majority of your customers will likely be auto-body shops, motorcycle businesses and others, they most likely have the equipment that they need, meaning that they will not be required to make expensive investments in equipment in order to use the chrome spray systems that they purchase from you. We offer drop shipments directly to your customers so that you will not have to store inventory. Our systems are designed to work with the equipment sold by our competitors, and we also provide the dual-nozzled spray gun that your customers need with the kits that they purchase.
Benefits Of Becoming A PChrome Servicer
By becoming a PChrome servicer, you can purchase our high-quality suite of chroming chemicals to carry out the process yourself. All of our chemicals are made in the USA at our facility in-house. We have been in the silvering business since the 1900's; needless to say, we know how good our chemistry is and we are sure you will see the difference in your finishing. Not only can you choose to purchase our chemicals and clearcoat, but you can also choose to simply purchase our chroming chemicals and use them with the clearcoat of your choice! Our products are compatible with a variety of competitors' coatings as well as chroming equipment and systems. More so, our prices are very reasonable and with an investment like that, you can do wonders with the outcomes, making excellent product and margins.
To learn more about becoming a PChrome distributor or servicer, contact us today. We will follow-up with you afterwards so that you can get started.