Great Product, Great Support, All the Time
Why You Should Look At PChrome's Commercial Reseller Program
---
Are you looking to start your own commercial chrome business? Specially branded spray chrome with your labels? Consider the benefits of our Private Label (White Label) options.
High Margins at Competitive Prices
No Inventory
No Minimum Order
Exceptional Performance, durable long lasting, as good as chrome
Unlimited Support by phone, email and in our factory
Next Day Shipping to you or Drop Shipment to your customer
PChrome Silver spray on plating technology is becoming a competitive necessity. Designers, Restorators, Customizers are gravitating to suppliers who meet their performance and cost expectations.
Gain immediate entry into that growing market for spray on silver chroming.
Our business model is simple:
Exceptional Product
Great Technical Support
High Margins for You
No Inventory
Immediate Drop Ship to your customer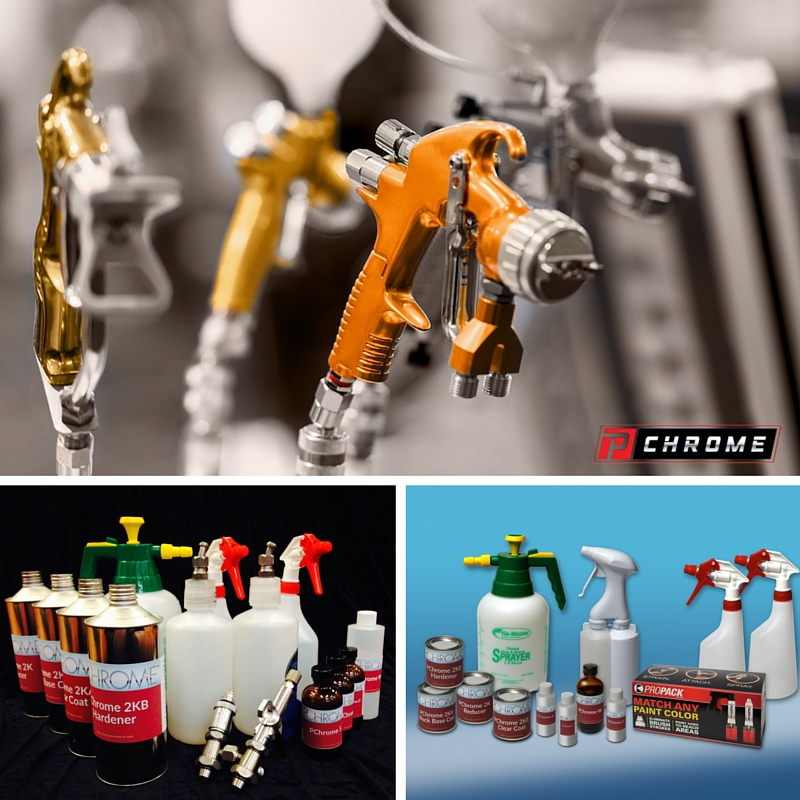 Your Competition
Competitive suppliers sell high price, complicated equipment along with their silver solutions. PChrome avoids such costly investments and high maintenance costs. Your customers already know how to paint and have most of the equipment they need. PChrome gives them the essential equipment and does not burden your selling with excessive investments in equipment.
Competitive equipment often is sitting idle and unused at their customers site. Lack of technical support, poor training and difficult, temperamental silvering solutions have frustrated their customers. PChrome solutions and our robust technical support team enables our reseller to supply silver solutions that work directly with competitor equipment. All PChrome components are made by PChrome in Philadelphia. They are made daily and shipped fresh to your customers.
PChrome gives you attractively priced packages to sell new users and silvering solutions to win over current users of competitive equipment. PChrome provides you with an on-going revenue stream of repeat purchase of silvering solutions.
Don't be caught unaware. Make sure you have your bases covered. Add color to your ESD paint offerings. Be prepared to meet your customer color expectations. Steal a step on your competitors. Grab the buyers looking for more than a great ESD paint.
Free Up Working Capital, No Stocking Inventory, No Obsolescence
No Stocking Inventory. We made our PChrome Advantage Program even more attractive by eliminating your inventory. Call, fax or enter your customer's order online. We ship your order with your contact information inside. Our factory maintains a supply of PChrome kits and solutions ready to ship. When we receive your order, our warehouse team picks and packs the order for you. We handle all of the shipping and regulations. You focus on what you do best, taking care of your customer.
Making Your Life Easier
Place your order online and it is shipped the next day. You can have it dropped shipped with your shipping label and your packing slip to save time and cost.
Don't like online ordering, then email, fax or call your order in. You can even mail it to us though no one has done that in a while.
You receive an immediate order confirmation and tracking information so you can keep your customer informed.
Fast Delivery
UPS Ground and Next Day Air delivery options to meet your needs. Shipments leave Philadelphia, PA and arrive east of the Mississippi in 2 days and west in 3-5 days depending on distance. Next Day Air is available. All orders are on their way with UPS within 24 hours of your order.
Your customers get their order quickly. Your team handles all payments and customer service. We deliver technical support, training videos, fast on demand inventory and shipping services. Everything done for you behind the scene.
Start Your Own Commercial Chrome Business!
Fill Out the form below to request more information. Or give us a call at 1-215-729-4400
---