Who Uses PChrome?
---
People from all walks of life love the shiny, gleaming look of chrome. With its mirror-like finish, chrome gives the appearance of newness and cleanliness. Unfortunately, traditional chrome plating is very expensive, and people have limited choices in the type of material it can be applied to as well as the size of the piece to which they wish to add chrome. PChrome solves these issues.
A type of spray chrome, it is highly versatile. It can be used for almost anything you can imagine and bonds well to most substrates, including wood, glass, plastic, metal and others. It also comes in a variety of different colors, allowing you to add surprising bursts of shiny color wherever you want it. PChrome is applied with a simple series of spray applications and doesn't require the toxic acid baths that traditional chrome plating does. If you love the look of chrome but dislike the time and hassle involved with adding it, PChrome is the right alternative for you.
Common Applications:
Spray Chrome for Artists
Whether you are working on a full-wall mural, a collage or any other work of art, you might want to add chrome touches. PChrome is an excellent additional medium for artists. Since it can be applied to almost any substrate imaginable, you can add the look of chrome in areas of your artwork to surprise and delight those who view it.
PChrome is perfect for the following:
Sculptors
Blacksmiths
Woodworkers
Glass Blowers
Fine Art
Visual Art
Decorative Art
Applied Art
Assemblage Art
Religious Art
Folk Art
Jewelry Art
Graffiti Art
Junk Art
Mosaic Art
Learn More
---
Spray Chrome For Auto Body Shops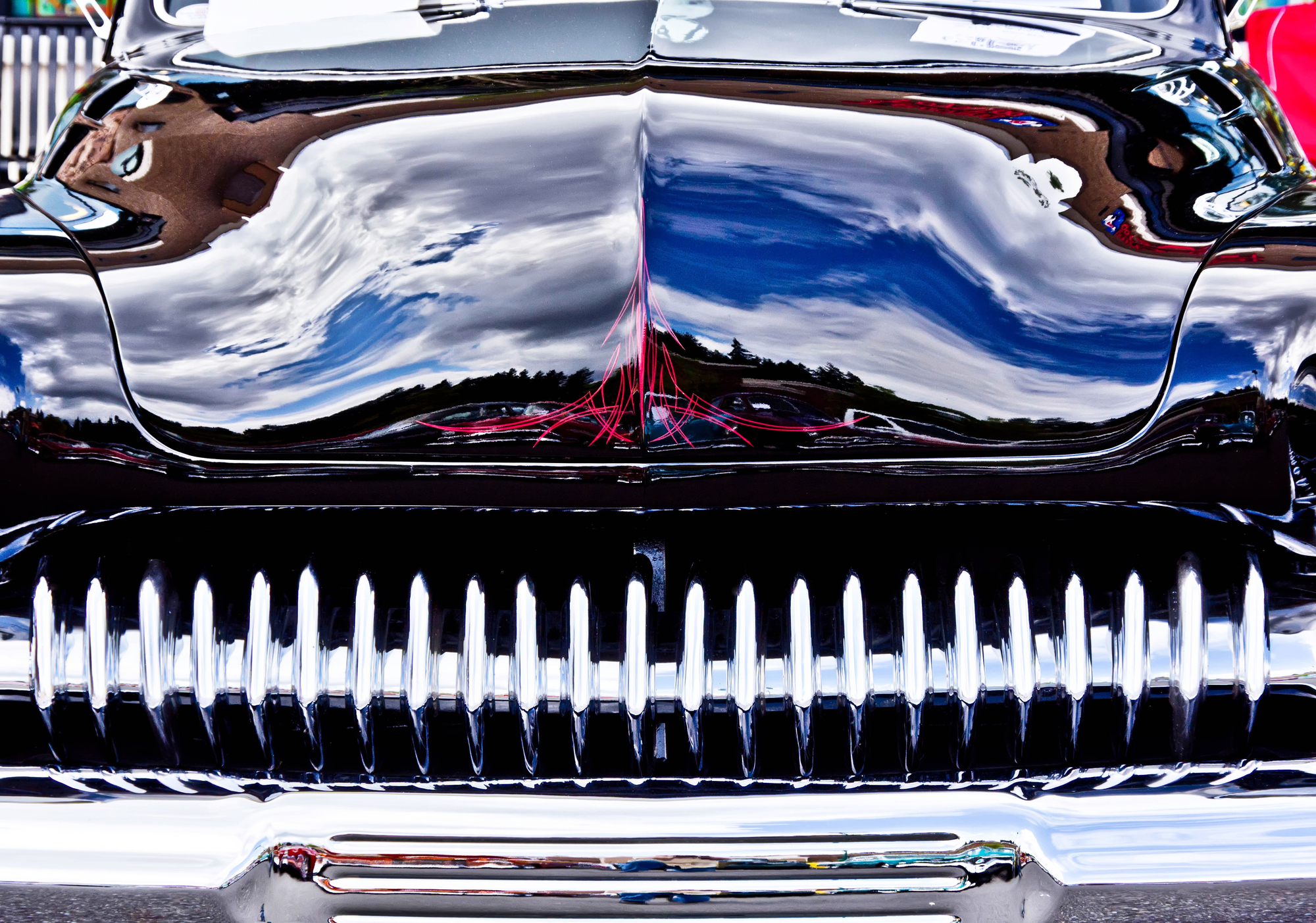 The versatility and affordability of PChrome make it a must for those who are involved in auto body work. When you are needing to restore a customer's vintage car, it is sometimes hard to find certain parts.
PChrome allows you to mold your own replacement piece out of plastic, then adding the chrome that makes it look just like the original. You can use it to make scuffed old rims, grills, bumpers interior parts or anything else on a car look like they did when the car first came from the factory. A terrific bonus is that PChrome can be applied on site in your shop, and it only takes a few spray applications to get that same high-gleam beauty your customers want.
PChrome is ideal for most automotive applications:
Classic Car Restoration
Custom Vehicle Detailing
Interior Customization
Exterior Customization
Learn More
---
Spray Chrome For Designers
Imagine stepping into a high-end restaurant and seeing the rich wooden bar gleaming with chrome edging, flanked by chrome and wood bar stools.
PChrome spray can transform almost anything in order to give it a mirror finish. You can use it to add color to mirrors and glass to complement the rest of the decor. Spray chrome is a terrific additional tool for designers to have in their repertoire of materials.
PChrome looks impeccable in the following venues:
Hotel Lobby
Night Clubs
Convention Centers
Stadiums
Golf Clubs
Banquet Halls
Theaters
Ball Room
Concert Hall
Auditoriums
Restaurants
Sports Bar
Opera houses
Jazz clubs
Museums
Learn More
---
Spray Chrome For Hobbyists
Whether you enjoy building small model cars, ships, planes or boats, you can make them look true-to-life by adding the chrome touches that PChrome allows.
When you apply PChrome to your remote-control flyer, you'll be the envy of everyone at the park with the realistic and beautiful look that your plane has. The addition of chrome will likely lead others to ask you about how you made your model look so much better than everyone else's craft.
PChrome is an excellent choice for the following hobbies and crafts:
Model Kits
R/C Models
Gamers
Crafts
Learn More
---
Spray Chrome For Motorcycle Shops
Motorcycle shop owners understand that their customers want their bikes to stand out from the crowd. Adding chrome to wheels, handlebars and other areas can transform a motorcycle into a true work of art. Even if a bike is old and dirty, PChrome can breathe life back into it, making it look as good as new.
PChrome can also let you add custom styling according to your customers' wishes. It comes in a variety of different hues, allowing you to add surprising bursts of gleaming color wherever you want.
A terrific benefit of PChrome is that it can be added to any size of part right in your shop. You won't need to send parts off for traditional plating. Instead, you can apply it using our double-nozzled sprayer in your shop. This helps reduce your turnaround times, and, since it costs only about 25 percent of what traditional chrome plating does, it can help you to increase your profits while also satisfying your customers.
PChrome has excelled in the following motorcycle applications:
Motorcycle Restoration
Motorcycle Detailing
Motorcycle Customizing
ATVs
Snowmobiles
Scooters
Minibikes
Trikes
Go Carts
Golf Carts
Three Wheelers
Slingshot (Polaris)
T-Rex (Campanga)
Spyder (Can-Am)
Learn More
No matter how you want to use PChrome, you'll be impressed with its durability and shine. It gives the same look and feel of traditional chrome but is far less expensive and much more versatile. Go ahead and order your own PChrome spray chrome kit today, and you'll discover exactly why so many people love it.