Spray Chrome Comparison
---
If you want to have the ability to add a touch of chrome to any object, you may have heard about the versatility of a good spray chrome system. A spray chrome system that is good may be used on any size of part and be easy to set up so that you can get to work. It can be bewildering to determine which company to choose, however. In order to help you, we have compiled information about Spectra Chrome and PChrome for an easy-to-use spray chrome comparison of the two companies and their product lines.
About Spectra Chrome
Based in Florida, Spectra Chrome offers equipment and chrome spray systems in several sizes. The company's products show good adhesion, and it offers a range of different color choices. Spectra Chrome's technical support is limited, however, and customers will need to purchase equipment separately from their kits, lowering the ease of setting up and getting started. Orders are shipped within a week of being placed.
Spectra Chrome spray chrome systems
The size options for the systems offered by Spectra Chrome are limited with the smallest system available covering 500 square feet at a cost of $1,660. The largest size option covers $3,000 square feet at a cost of $7,989. The company sells equipment to apply the spray chrome packages separately.
Differences in Silver Solutions
The concentration of silver and the quality of raw materials used to manufacture the S solutions are critical. The formulation know-how and the tight manufacturing controls we bring with over 80 years of silver making history give our customers unprecedented quality and performance.
Equally important is the freshness of the solutions. Both the S and the R solutions have a relatively short shelf life. It is the nature of the chemistry that changes will occur as the product sits on the shelf. PChrome solutions are made daily and rarely sit in our warehouse for more than a few days.
Most of our competitors are buying their solutions in bulk from outside the US. PChrome comes to you a few days old while others are selling product that has sat in warehouses and ships often for months. Freshness counts when you are looking for brilliance.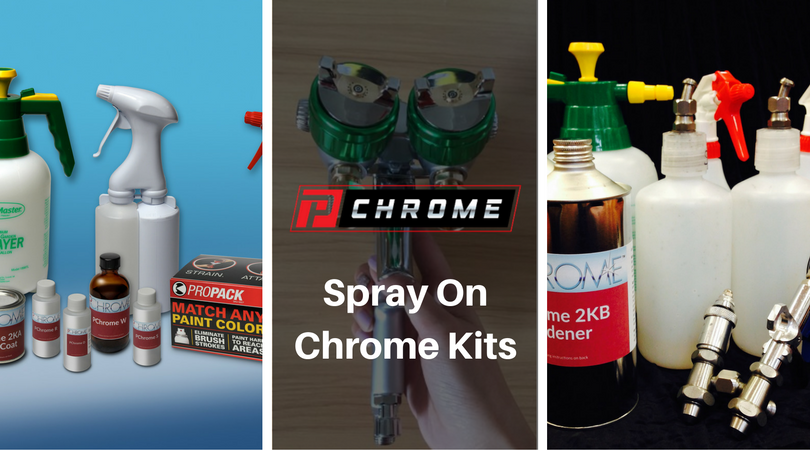 PChrome Spray Chrome Kits
PChrome is based in Philadelphia, Pennsylvania and has been in business since 1932. The company has good size options available for its spray chrome systems, ranging from 25 square feet of coverage up to 400 square feet of coverage.
PChrome offers five different colors and is compatible with many tints that are available in the industry. It has excellent technical support via email, phone and video. Customers do not need to buy any separate equipment as the kits contain everything that you need.