Spray Chrome Comparison
---
If you are like most people, you probably love the brilliance that chrome has to offer. You may be savvy enough to know that spray chrome can give your projects the same luster as is offered by traditional chrome plating. If you are trying to decide whether to choose the spray on chrome offered by Angel Gilding or PChrome, we have compiled information to make the spray chrome comparison between the two companies easier.
About Angel Gilding
Based in Chicago, Angel Gilding is a chroming business that offers a variety of spray on chrome kits and products via its online platform. The company sells chrome spray kits and paints that people can use to mirror surfaces.
Angel Gilding spray chrome kits products
Angel Gilding offers several different products and kits in its line. It offers a basic and a master kit, each providing different coverage levels. Angel Gilding also sells a clear uni-coat kit separately as well as other individual items that are contained in the larger kits. It also sells five different tints that can be used with the clear uni-coat. The company sells a silvering gun kit that is included with the master kit or can be purchased separately. The company offers good support via phone, video and email and offers a flexible set-up process. However, testing has shown that its products do not have good adhesion, meaning that the chrome spray is unlikely to last.
PChrome Origins
Our Dr. Peacock, the founder of Peacock Laboratories, returned to Philadelphia from World War I. He quickly became the nation's leading expert on silver solutions for mirror making. Over the decades, Peacock Laboratories has continuously manufactured our silver solutions in the original facilities established by Dr. Peacock in 1932.
PChrome is a product of our long history of silver chemistry and spray technology. PChrome S and its matching PChrome R are one of many specialized silvering solutions that we have developed to meet the unique needs of our varied customers. The speed and efficiency of PChrome S is a direct result of over 8 decades of silver manufacturing expertise that is unmatched in the industry. The speed of PChrome S gives our customers a competitive edge in their business.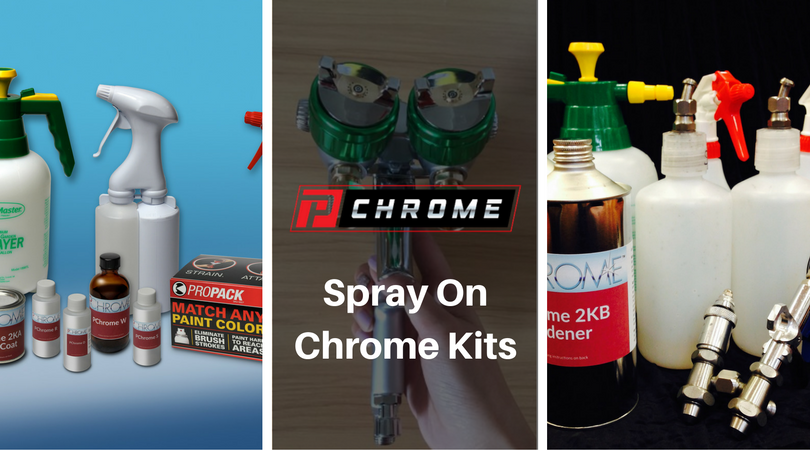 PChrome Spray Chrome Kits
PChrome comes in various sizes of its products, including ounces, pints, quarts and gallons. We offer an artist's starter kit and a professional starter kit. The company also sells refills, and its proprietary dual-nozzled spray gun is included in the professional kits. PChrome has technical support available via email, telephone and video. We also have a flexible set-up process and doesn't require you to purchase expensive equipment separately.
PChrome offers five different tints and is compatible with commonly available tints on the market. Unlike Angel Gilding, PChrome has been shown in cross-hatch tests to have excellent adhesion, making it far more durable.