Spray Chrome Comparison
---
If you are in the market for a high-quality chrome spray kit, you may have heard about Alsa Corp and PChrome as available options for your spray on chrome. Here's what you need to know about what both companies offer so that you can make a better-informed decision when you are choosing your own spray on chrome system.
About Alsa Corp
Located in Los Angeles, Alsa Corp offers a line of silver nitrate spray chrome options along with a line of equipment. Alsa Corp has been in business for two decades and has branches in 70 countries around the world.
Alsa Corp Chrome Paint Products
Alsa Corp offers chrome paint, spray chrome systems and painting equipment that it manufactures in-house. It offers several different types of chrome paint in cans in addition to more robust options that require equipment to apply them. The company offers commercial painting equipment costing thousands of dollars in addition to its paint and systems.
ChromeFX PUMP System
ChromeFX Mobile Pro
ChromeFX Machine CFX-M2
ChromeFX Machine CFXO-M2 (8 guns)
Pre-Colored CFX Pump Kit
MirraChrome
Ghost Chrome
Killer Chrome
MultiChrome
Killer Chrome – MirraChrome in a Can
PChrome Origins
Our Dr. Peacock, the founder of Peacock Laboratories, returned to Philadelphia from World War I. He quickly became the nation's leading expert on silver solutions for mirror making. Over the decades, Peacock Laboratories has continuously manufactured our silver solutions in the original facilities established by Dr. Peacock in 1932.
PChrome is a product of our long history of silver chemistry and spray technology. PChrome S and its matching PChrome R are one of many specialized silvering solutions that we have developed to meet the unique needs of our varied customers. The speed and efficiency of PChrome S is a direct result of over 8 decades of silver manufacturing expertise that is unmatched in the industry. The speed of PChrome S gives our customers a competitive edge in their business.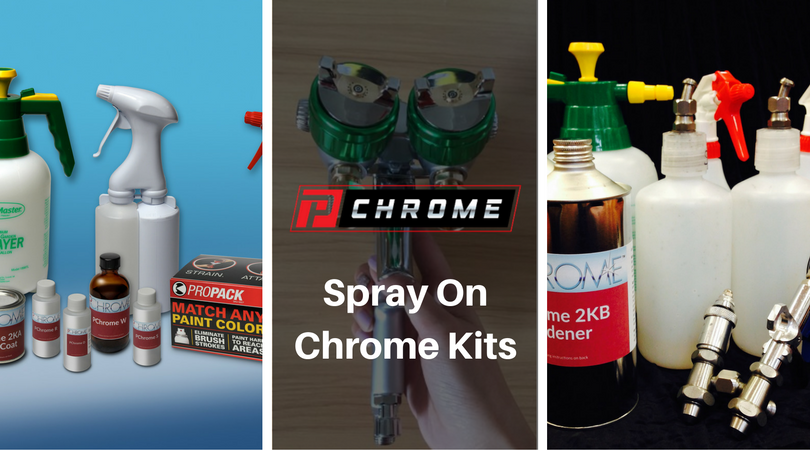 PChrome Spray Chrome Kits
PChrome is highly versatile, coming in a variety of size options and color choices. You are not limited by the size of the part that you want to chrome. You can use it on almost any surface type, including metal, glass, wood and more. Highly durable, PChrome provides the brilliance and look that people expect from products that are chrome-plated.
Unlike Alsacorp's offerings, PChrome does not require you to invest in any expensive equipment in addition to your spray on chrome systems. An excellent choice for users ranging in experience levels from beginners to experts, PChrome offers robust tech support via email, video and phone. The solutions are manufactured in-house, and we provide our customers with everything they need, including our proprietary silvering gun. PChrome's chrome spray systems are also compatible with our competitor's equipment, meaning that you do not have to go out and purchase new equipment when you already have some in your shop.